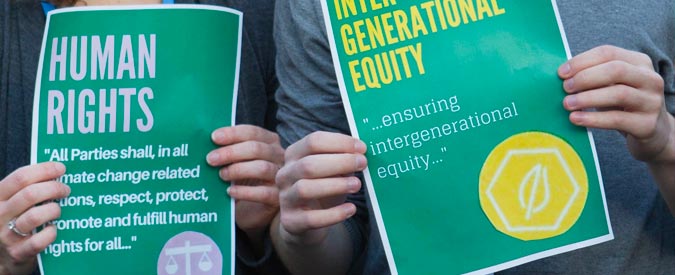 Intergenerational dialogue: approval of a historic resolution of the UN Security Council
During the plenary session last Thursday here at COP21, the adoption on the part of the Security Council of UN Resolution 2250 was reported, this being a document devoted entirely to the role of young people in the process of security and peace-building worldwide.
The resolution was sponsored by Jordan and is an unprecedented recognition of the urgent need to engage young leaders in the fight against terrorism and in the processes of reconciliation, and adoption comes at a historic moment in which 600 million young women and men live in war zones and are exposed to a high risk of involvement in terrorist organizations. The resolution calls on member states to increase the inclusion of young people in decision-making at all levels and to establish mechanisms for the prevention and settlement of conflicts in which they are permitted to participate.
The Assistant Secretary-General for Peace-building Support, Oscar Fernandez-Taranco, pointed out that, "With the adoption of SCR 2250, the Security Council has made history. Recognition of the decisive role of young people in building peace and ensuring international security will involve a change in the way in which the international community seeks to end violence and build peaceful and inclusive societies. Young women and men have worked tirelessly for peace and reconciliation in their communities and with this resolution their work receives the recognition it deserves."
Expressing the same opinion, Ahmad Alhemdawi, the UN Secretary-General's Special Envoy on Youth, added that "For far too long young people have been represented only as perpetrators and/or the victims of violence (…). The resolution represents a step forward in changing the tendency to permit negative representations of this kind".
With the adoption of a resolution which is highly significant for young people, the international community is sending out an important message: the needs of all generations in society can not be ignored and it is essential for all people to be involved in attempts to solve the problems of our time. We hope that this message may also be accepted here during negotiations concerning climate issues and that the principle of intergenerational equity, which the Italian Climate Network is strongly advocating, will remain in the final text of the Paris agreement.
Chiara Soletti
Published for Italian Climate Network on the association's website.