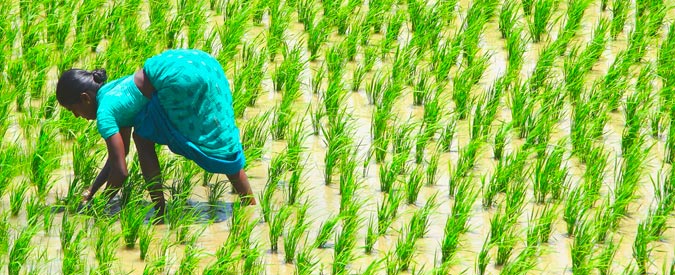 Preparing for the COP21 in Paris - Women and Capacity-Building
At the twenty-first Conference of Parties to the UN discussions will be held on the strengthening of the role of women within the framework of strategies for adaptation to climate change.
Following the devastation caused by Cyclone Sidr in Bangladesh in 2007, the NGO 'Plan International' launched a program designed to reduce environmental risks which focuses on adolescents. The project covered the coastal district of Barguna, the area most affected by the cyclone, in order to improve responsiveness and the capacity for environmental adaptation on the part of local communities. The program attempted to involve all young people and young women in particular, creating a context in which they might not only be capable of expressing their concerns but also make a personal contribution in terms of ideas for the protection of the community in the event of a disaster. Young men and women collaborated, concentrating on issues relating to climate change, sharing the knowledge they acquired with their families and achieving results much greater than might have been expected.
It has been demonstrated that in situations caused by environmental crises gender gaps tend to be accentuated with women, and especially younger women, being placed in situations of great distress and danger. In these circumstances the weakest members of the community in fact have less chance of survival, and girls in particular are exposed to the risk of physical abuse, which may have a permanent effect on their lives. There are numerous factors that increase the risk of sexual violence, ranging from a lack of privacy in makeshift shelters to temporary separation from the family, not to mention those who remain orphaned.
A young woman left to care for herself may quickly slip into a state of poverty so extreme that she may consider a marriage of convenience or even prostitution as the only chance of survival. Extreme degrees of poverty are moreover correlated with a higher frequency of marriages between very young girls, who are practically children, and elderly men. It is in fact often the families themselves that force their daughters into these situations in the hope they may be released from the dramatic prospect of severe poverty.
In any case, even without going so far as to accept such conditions, in the long run it is the girls who have to pay the highest price of an emergency; they may be forced to work to help the family economy or they may simply end up as domestic servants with no future. Brothers and males of the same age are the first to return to school as guaranteeing their education is considered a priority consistent with their future role as the heads of households. In such situations young girls enter a cycle of increasing marginalization that makes it increasingly difficult not only to return to their studies, but also to ensure their effective integration in society.
The only road leading to emancipation for these young women is self-determination of gender resulting from 'capacity building', and the initiative of Plan International in Barguna is an example of this. The initiative has allowed girls and young women to challenge social conventions and relate to males of their own age as equals. Although they initially opposed the plan, families have allowed their daughters to participate in the program and are becoming increasingly convinced of the need to let them return to school. Besides improving the responsiveness of the community, awareness-raising meetings focusing on environmental risks have changed the perception of the social role of young women. To consolidate the results of the program Plan International has sought and obtained from local authorities a greater degree of involvement of young people, and especially of girls, in decision-making regarding environmental safety.
The Barguna experience shows that when women and girls are aware of the possible social and environmental consequences of climate change they increase not only their resources for self-defence but also the chances of becoming an active part of social change. In this sense access to education is crucial. Young women who continue studying are more sure of themselves and participate in community life, becoming one of its strategic resources. The involvement of women in programs for climate adaptation is important both in fundamental choices and in everyday life, and leads to rapid progress in the capability of the community to react in the presence of environmental emergencies. Education for girls in particular has a positive impact in the reduction of both early marriages and cases of abuse.
The experience gained in the Barguna district, along with many other examples in the field, make it obvious that the gender approach, given the central role of women in family life and the raising of children, must be a fundamental part of all climate-adaptation programs. In practical terms, the legitimization of women must not remain a mere theoretical proposal; it is necessary to start at the scholastic level so that education becomes a genuine right and not an occasionally-granted privilege. Without a premise of this kind it is unrealistic to speak in terms of the empowerment of women and their right to access financial resources and technology as a condition of effective gender equality also in adapting to climate change.
Chiara Soletti
Published for Italian Climate Network on the association's website.